HOT CURL SUMMER SALE☀️🌴
endet in {timer}
Beschreibung

Anwendung

Inhaltsstoffe
1 mal täglich

ZUCKERFREI & VEGAN
Möchtest Du das Erscheinungsbild Deiner Haare verbessern und Deine Locken zum Strahlen bringen? Dann solltest Du die Haar-Vitaminen in Deine Routine mit aufnehmen. Sich gesund zu ernähren und viel zu trinken ist ein Muss. Zusätzliche Hilfe kann jedoch sehr wichtig sein, vor allem, wenn Du nicht alle Vitamine zu Dir nimmst, die das Haar braucht.

Warum Haar-Vitamine in Tablettenform?
- Tabletten haben eine längere Haltbarkeit
- Du kannst eine höhere Dosis eines Wirkstoffs aufnehmen als mit einer Kapsel. 1 Tablette pro Tag ist also ausreichend.
- Es ist auch möglich, die Tablette in 2 zu teilen, wenn Du eine halbe Tablette pro Tag einnehmen möchten.
- Bei der Herstellung von Tabletten werden die pulverförmigen Zutaten zu einer festen, glatten Pille zusammengepresst. Keine weiteren Zusätze werden benötigt. 


nehme eine Tablette pro Tag mit ausreichend Flüssigkeit zu Dir
Du kannst die Tablette auch teilen und eine halbe pro Tag einnehmen
BIOTIN
Wichtig für das Haarwachstum.

COLLAGEN
Kollagen hat sich bei der Behandlung von trockenem, brüchigem Haar als sehr wirksam erwiesen, da es den gesunden Feuchtigkeitsgehalt des Haares unterstützt.

KUPFER
Pflegt das Gewebe der Blutgefäße. So können Kupferpeptide möglicherweise die Haarfollikel stimulieren, damit sie ausreichend Sauerstoff und Nährstoffe erhalten, um neues Haarwachstum zu produzieren.

NIACIN (VITAMIN B)
Niacin senkt den hs-CRP-Spiegel im Körper, was für Menschen, die unter Haarausfall leiden, von großer Bedeutung ist. Dies bedeutet, dass Niacin entzündungshemmende Eigenschaften hat.

FOLIC
Hilft bei der Vermehrung der roten Blutkörperchen im Körper und kann den Prozess der Zellteilung beschleunigen, was ein gesundes und glänzendes Haarwachstum fördert.

VITAMIN C, D und E
So viele Vorteile, von der Pflege der Kopfhaut bis zur Befeuchtung der Haare.

ZINK
Verbessert das Haargewebe und bildet Öl um den Haarfollikel.

MAGNESIUM
Magnesium trägt zur generellen Gesundheit der Haare bei, unter anderem aufgrund seiner Rolle bei der Proteinsynthese. Die Proteinsynthese ist für die Bildung von Melanin und die Unterstützung des Haarwachstumszyklus verantwortlich. Ohne Magnesium geht die Proteinsynthese verloren, was zu Problemen für die Struktur und den Haarwachstumsprozess führt.
Without Animal Testing

Vegan
Our Values
Get to know us better and see for yourself what makes SARI CURLS unique.
We at SARI CURLS have not only established the term curl store, but also brought brands and tools to Germany that are not easily accessible. We want to educate you about hair and curls, give you information and tips, teach you about ingredients. We are your faithful companion on your own curl journey.
We obtain all our products and tools directly from the manufacturers. Thus, we are always in regular and personal exchange. With us you can always shop safely and without worry. We always pay attention to the topicality of the ingredients or formulas and always have the latest products in stock. We support small businesses which attach importance to sustainability, as our environment is important to us.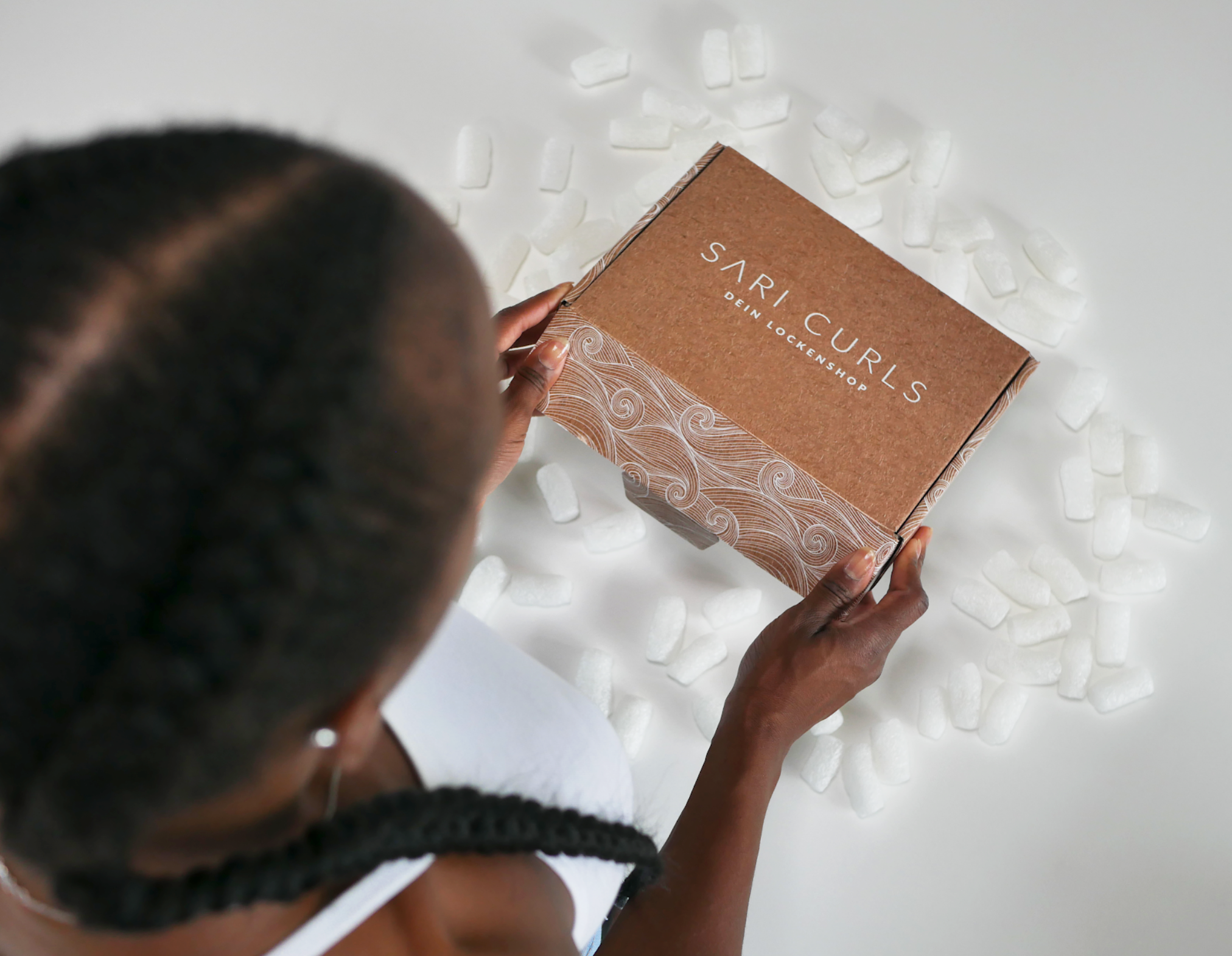 There is no planet B! Unsere Versandverpackungen sind ESC-Zertifiziert und 100% recyclebar. Unsere Füllmaterialien bestehen aus Papier oder weißen Flips aus Pflanzen- bzw. Maisstärke. Diese sind 100% biologisch abbaubar und lösen sich sogar in Wasser auf. Unsere Pakete werden klimaneutral zu Dir geliefert. Wir sind Teil des Umweltschutzprogramms DHL GoGreen. Jedes Paket wird mit ganz viel Liebe von Charlotte verpackt, Sie ist das Herzstück unseres Lagers.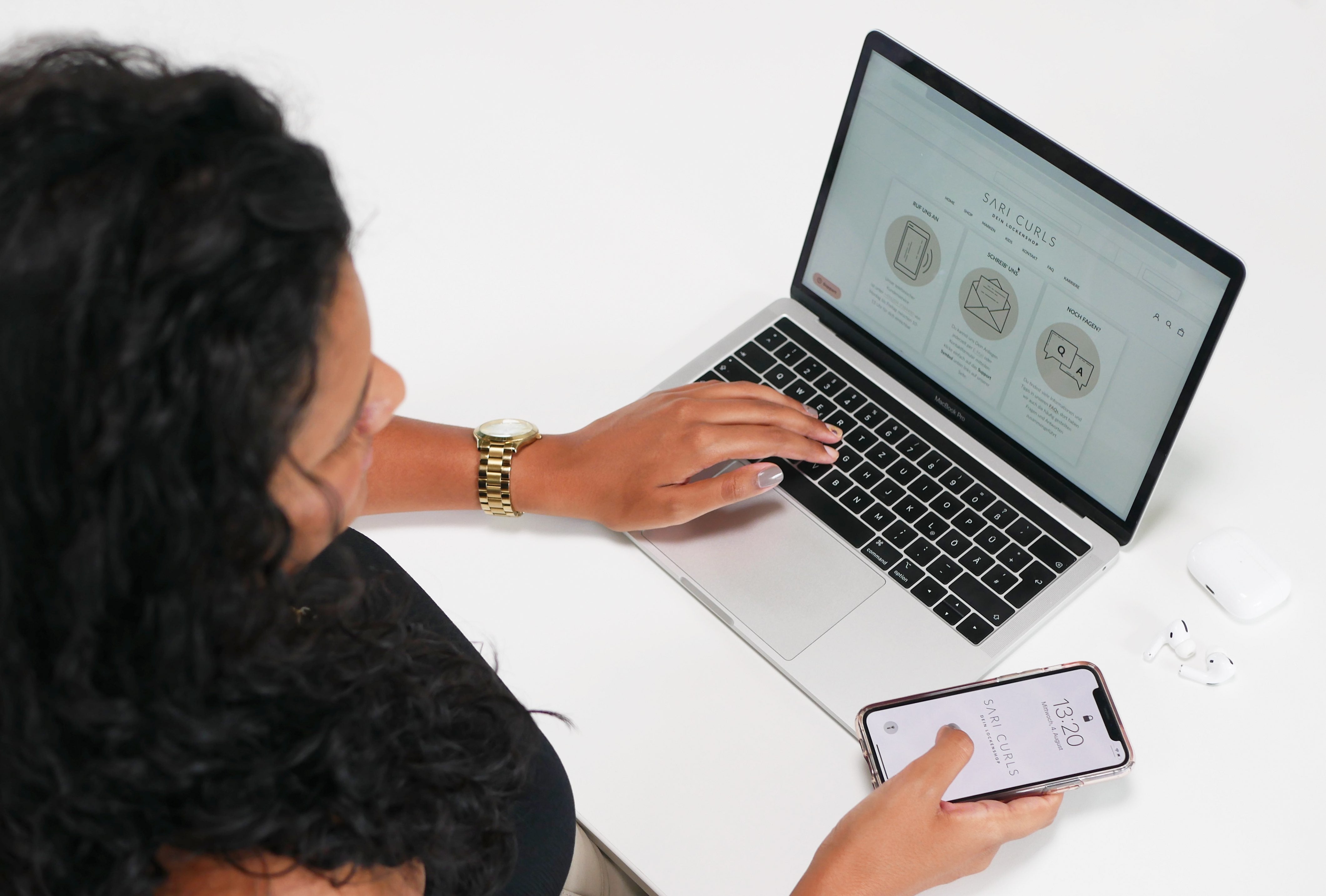 Your satisfaction is our priority. That is why our customer service team is here to help you with your curl journey. If you have any questions about your order, the shipping status or a product, we are there for you personally and always find a solution.
With Joanna - from the Customer Service Team - you are in good and safe hands.