HOT CURL SUMMER SALE☀️🌴
endet in {timer}
Beschreibung

Anwendung

Inhaltstoffe
Das Curl Defining Mousse von Rizo Curls ist die ultimative Lösung für gesunde, voluminöse Locken mit definierter Form und Feuchtigkeit! Dieser leichte Styling-Schaum wurde speziell entwickelt, um Frizz zu bändigen, den Glanz zu verstärken und die natürliche Textur Deiner Locken zu verbessern. Er besteht zu 96% aus natürlichen Inhaltsstoffen, die sorgfältig ausgewählt wurden, um die Gesundheit des Haares zu fördern und es bei jeder Anwendung mit Feuchtigkeit zu versorgen.

Bewährte Ergebnisse:
✔ 94% stimmen zu, dass das Produkt die Definition der Locken verbessert
✔ 94% stimmen zu, dass das Produkt mehr Feuchtigkeit spendet als andere Lockenmousses
✔ 91% stimmen zu, dass das Produkt das Volumen verbessert
✔ 91% stimmen zu, dass das Produkt keine Flocken hinterlässt
*Basierend auf einer unabhängigen Verbraucherstudie

Warum wir es lieben:
✔ Verbesserte Lockendefinition für alle Texturen - Wellen, Locken und Coils
✔ Schwereloses Volumen ohne das Haar zu beschweren
✔ Hervorragend geeignet für das Styling am Waschtag und zur Auffrischung und Hydratisierung von Locken über mehrere Tage
✔ Vitaminreiche, tiefgehende Feuchtigkeit für sichtbar gesünderes Haar
✔ Hochwirksame Formel
✔ Hergestellt aus 96% natürlich gewonnenen Inhaltsstoffen
✔ Dermatologisch getestet
✔ Vegan und frei von Grausamkeiten
✔ Nicht-Aerosol, sicherer für den Planeten & Nachhaltigkeit

Hochwirksame natürliche Inhaltsstoffe:
✔ Kaktusblütenextrakt: Spendet vitaminreiche Feuchtigkeit, nährt die Haarsträhnen tiefgreifend und fördert die Haarkraft.
✔ Maracujá-Öl: Reich an Antioxidantien, verbessert die Geschmeidigkeit, verstärkt den Glanz und bekämpft Frizz.
✔ Rotalgen: Super-Antioxidans, das Deine Locken vor Umweltschäden schützt und schwaches Haar repariert.
✔ Kokosnusswasser: Extrem feuchtigkeitsspendend und nährstoffreich, verbessert sichtbar die Haargesundheit.
Schritt 1: Bereite Dein Haar vor
Beginne mit frisch gewaschenem und gepflegtem Haar. Trockne überschüssiges Wasser vorsichtig mit einem Mikrofasertuch aus Deinem Haar ab. Vermeide es, das Haar stark zu reiben, da dies zu Frizz und Schäden führen kann.

Tipp: Für zusätzliche Feuchtigkeit und Entwirrung verwende das Rizo Curls Refresh & Detangle Spray als Leave-in-Conditioner, bevor Du das Curl Defining Mousse aufträgst.

Schritt 2: Schütteln und Verteilen
Schüttle das Curl Defining Mousse gut, um sicherzustellen, dass die Inhaltsstoffe gut vermischt sind. Gib 1-2 Pumpstöße des Schaums in Deine Hand. Denke daran, dass eine kleine Menge ausreicht, besonders wenn Du feines oder wenig poröses Haar hast.

Schritt 3: Anwendung
Trage den Schaum gleichmäßig in Deinem feuchten Haar auf. Dazu kannst Du den Schaum mit den Fingern in Deine Locken einarbeiten und darauf achten, dass alle Strähnen bedeckt sind. Knete Dein Haar, um die Lockenbildung zu fördern.

Tipp: Für definiertere Locken teile Dein Haar in Abschnitte und trage den Schaumfestiger Abschnitt für Abschnitt auf, um eine gleichmäßige Verteilung zu gewährleisten.

Schritt 4: Styling-Optionen
Für natürliche Lufttrocknung: Lassen Sie Ihre Locken an der Luft trocknen, um weiche, federnde Locken mit natürlichem Volumen und minimalem Frizz zu erhalten. Vermeiden Sie es, Ihr Haar während des Trocknens zu berühren, um das Lockenmuster nicht zu stören.

Zum Diffundieren: Wenn Sie eine schnellere Trocknung und mehr Volumen bevorzugen, verwenden Sie einen Diffusoraufsatz auf niedriger Hitze- und Luftstromstufe. Heben Sie Ihre Locken mit dem Diffusor an und kämmen Sie sie sanft, damit sie ihre Form behalten.


Tipps:
Um Deine Locken an Tagen, an denen sie nicht gewaschen werden, aufzufrischen, mische eine kleine Menge des Curl Defining Mousse mit Wasser in einer Sprühflasche und sprühe es auf Deine Locken. Knete Deine Locken sanft, um sie wieder zu beleben.
Experimentiere mit der Menge des Schaums, um die richtige Balance für Deinen Haartyp zu finden. Feines Haar benötigt möglicherweise weniger Produkt, während dickeres Haar von etwas mehr profitieren kann.

Wenn Du diese Schritte befolgst und die empfohlenen Tipps berücksichtigst, erhältst Du wunderschön definierte und mit Feuchtigkeit versorgte Locken, die ihre Form behalten, nicht kräuseln und den ganzen Tag über natürliches Volumen haben.
Water (Aqua/Eau), Glycerin, Cocamidopropyl Betaine, Polysorbate 20, Decyl Glucoside, Cocos Nucifera (Coconut) Water, Furcellaria Lumbricalis (Red Algae) Extract, Cereus Grandiflorus (Cactus) Flower Extract, Passiflora Incarnata (Maracujá) Seed Oil, Aloe Barbadensis (Aloe Vera) Leaf Powder, Panthenol, Salvia Hispanica (Chia) Seed Extract, Linum Usitatissimum (Linseed/Flaxseed) Seed Extract, Polyurethane-14, Sodium Laneth-40 Maleate/Styrene Sulfonate Copolymer, AMP-Acrylates Copolymer, Aminomethyl Propanol, Leuconostoc/Radish Root Ferment Filtrate, Sodium Chloride, Tetrasodium Glutamate Diacetate, Citric Acid, Caprylic Acid, Benzyl Alcohol, Xylitol, Sorbic Acid, Fragrance (Parfum), Potassium Sorbate, Ethylhexylglycerin, Phenoxyethanol, Benzyl Benzoateᵻ , Citralᵻ , Coumarinᵻ , Limoneneᵻ , Linaloolᵻ , Geraniolᵻ  ᵻ Naturally Occurring Fragrance Allergen
With Aloe Vera
Our Values
Get to know us better and see for yourself what makes SARI CURLS unique.
We at SARI CURLS have not only established the term curl store, but also brought brands and tools to Germany that are not easily accessible. We want to educate you about hair and curls, give you information and tips, teach you about ingredients. We are your faithful companion on your own curl journey.
We obtain all our products and tools directly from the manufacturers. Thus, we are always in regular and personal exchange. With us you can always shop safely and without worry. We always pay attention to the topicality of the ingredients or formulas and always have the latest products in stock. We support small businesses which attach importance to sustainability, as our environment is important to us.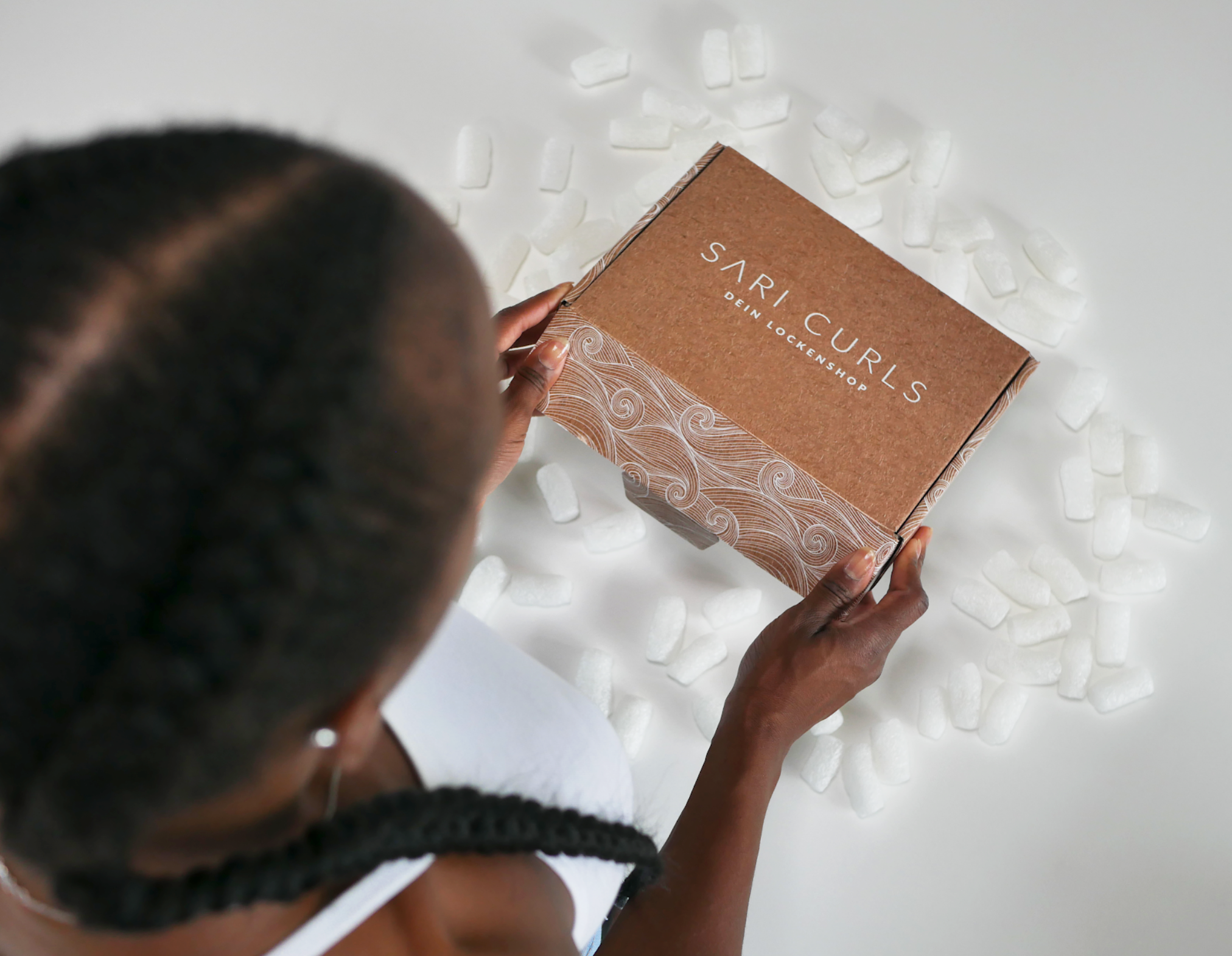 There is no planet B! Unsere Versandverpackungen sind ESC-Zertifiziert und 100% recyclebar. Unsere Füllmaterialien bestehen aus Papier oder weißen Flips aus Pflanzen- bzw. Maisstärke. Diese sind 100% biologisch abbaubar und lösen sich sogar in Wasser auf. Unsere Pakete werden klimaneutral zu Dir geliefert. Wir sind Teil des Umweltschutzprogramms DHL GoGreen. Jedes Paket wird mit ganz viel Liebe von Charlotte verpackt, Sie ist das Herzstück unseres Lagers.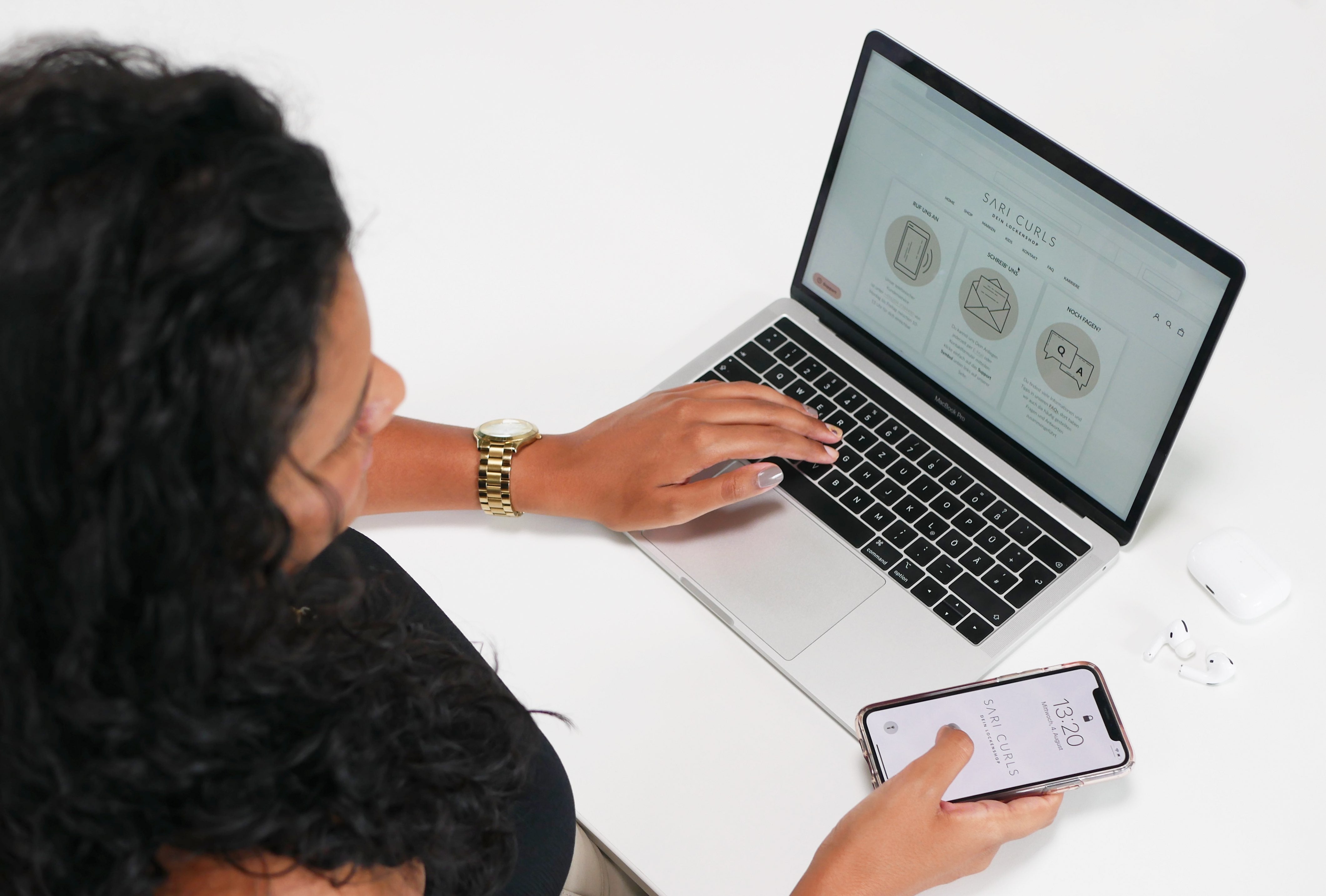 Your satisfaction is our priority. That is why our customer service team is here to help you with your curl journey. If you have any questions about your order, the shipping status or a product, we are there for you personally and always find a solution.
With Joanna - from the Customer Service Team - you are in good and safe hands.