⭐️ BLACK FRIDAY WEEKS ⭐️
bis zu -30% auf ALLE Lockenprodukte

Sale endet in {timer}
Description

How To Use

Size
ZAZZY BANDZ, THE REDESIGNED HEADBAND THAT FITS LIKE SUNGLASSES®
The ease and comfort, volume and style, and no headache from Zazzy Bandz® will have you wearing your hair down more often. There is more than one way to wear Zazzy Bandz®.
Made in the USA
Zazzy Bandz is also giving back:
"Not only are we passionate about giving women the ability to look stylish while being headache free, we also believe in leaving the world a better place than we found it. We find serving others the best way to make the world better one person at a time."
Zazzy Bandz giving back includes helping women and children both locally and globally. A portion of the proceeds from every Zazzy Bandz purchase supports the children and their caregivers whose home is Peniel Centre Orphanage in Bulawayo, Zimbabwe.
OPTION 1: LIKE WEARING YOUR SUNGLASSES
Zazzy Bandz are easy to wear. Place the ZB above your ears or near your temples and slide into place
Flip the ZB in either direction so the feet face forward or backwards to achieve a different fit, feel, and look you might like
Did you know? The patented curves in the corners of your ZB can aid in additional volume
OPTION 2: WANT MORE VOLUME AND HOLD?

Get more hold and a new look.
Pull back your bangs leaving some hair down around your face and insert your ZB from the top of your head to achieve a fuller look
Does your ZB slide forward?
Pulling back just your bangs and leaving the hair down on the sides will aid your ZB from sliding
Try Wrapped Zazzy Bandz. Due to the texture of the fabric, they will provide a little extra hold
Height: 6 inches
Width: 5.75 inches
Original Fit:
- perfect for normal to thick and voluminous curly hair
- popular standard size with a comfortable fit
- wider band for more grip on the head
Slim Fit Relaxed:
- perfect for those who get headaches easily
- thinner band for a light and comfortable fit
- ideal for waves and thinner hair types
(note: if waves start at the end of the strands, there might not be enough volume for this band to find grip)
- not suitable for small heads, as it will be too loose
The difference is in the feel.
The ergonomic design of both Zazzy Bandz styles are actually the same size. The Slim-Relaxed Fit is slimmer by design giving it a more relaxed feel compared to our Original Fit Zazzy Bandz® which are loved by most.

Zazzy Bandz hand-wrapped options offer a little extra hold due to the texture of the fabric. With so many colors and patterns to choose from, you can match your style each day. Available in Original Fit and Slim-Relaxed Fit.
Our Values
Get to know us better and see for yourself what makes SARI CURLS unique.
We at SARI CURLS have not only established the term curl store, but also brought brands and tools to Germany that are not easily accessible. We want to educate you about hair and curls, give you information and tips, teach you about ingredients. We are your faithful companion on your own curl journey.
We obtain all our products and tools directly from the manufacturers. Thus, we are always in regular and personal exchange. With us you can always shop safely and without worry. We always pay attention to the topicality of the ingredients or formulas and always have the latest products in stock. We support small businesses which attach importance to sustainability, as our environment is important to us.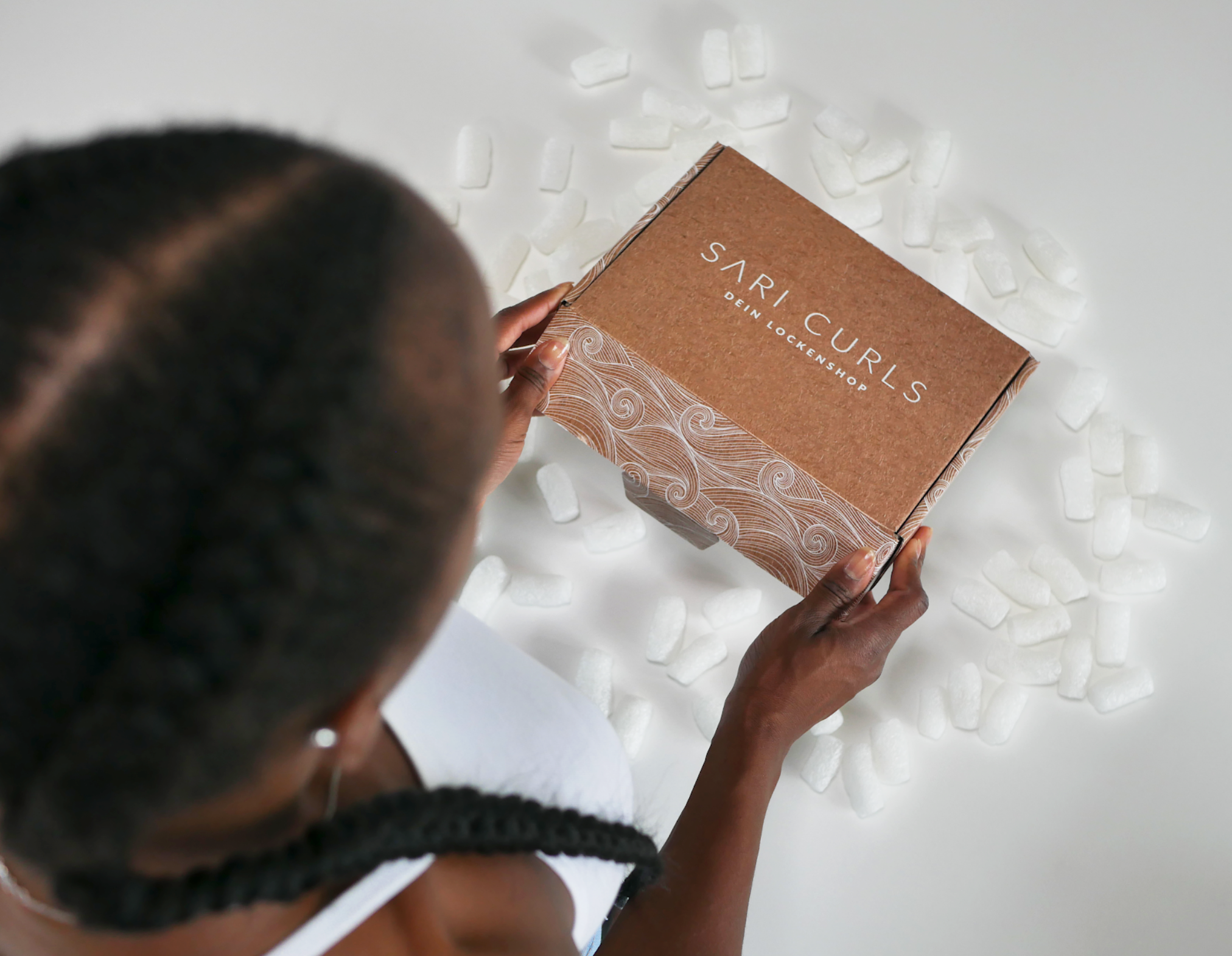 There is no planet B! Unsere Versandverpackungen sind ESC-Zertifiziert und 100% recyclebar. Unsere Füllmaterialien bestehen aus Papier oder weißen Flips aus Pflanzen- bzw. Maisstärke. Diese sind 100% biologisch abbaubar und lösen sich sogar in Wasser auf. Unsere Pakete werden klimaneutral zu Dir geliefert. Wir sind Teil des Umweltschutzprogramms DHL GoGreen. Jedes Paket wird mit ganz viel Liebe von Charlotte verpackt, Sie ist das Herzstück unseres Lagers.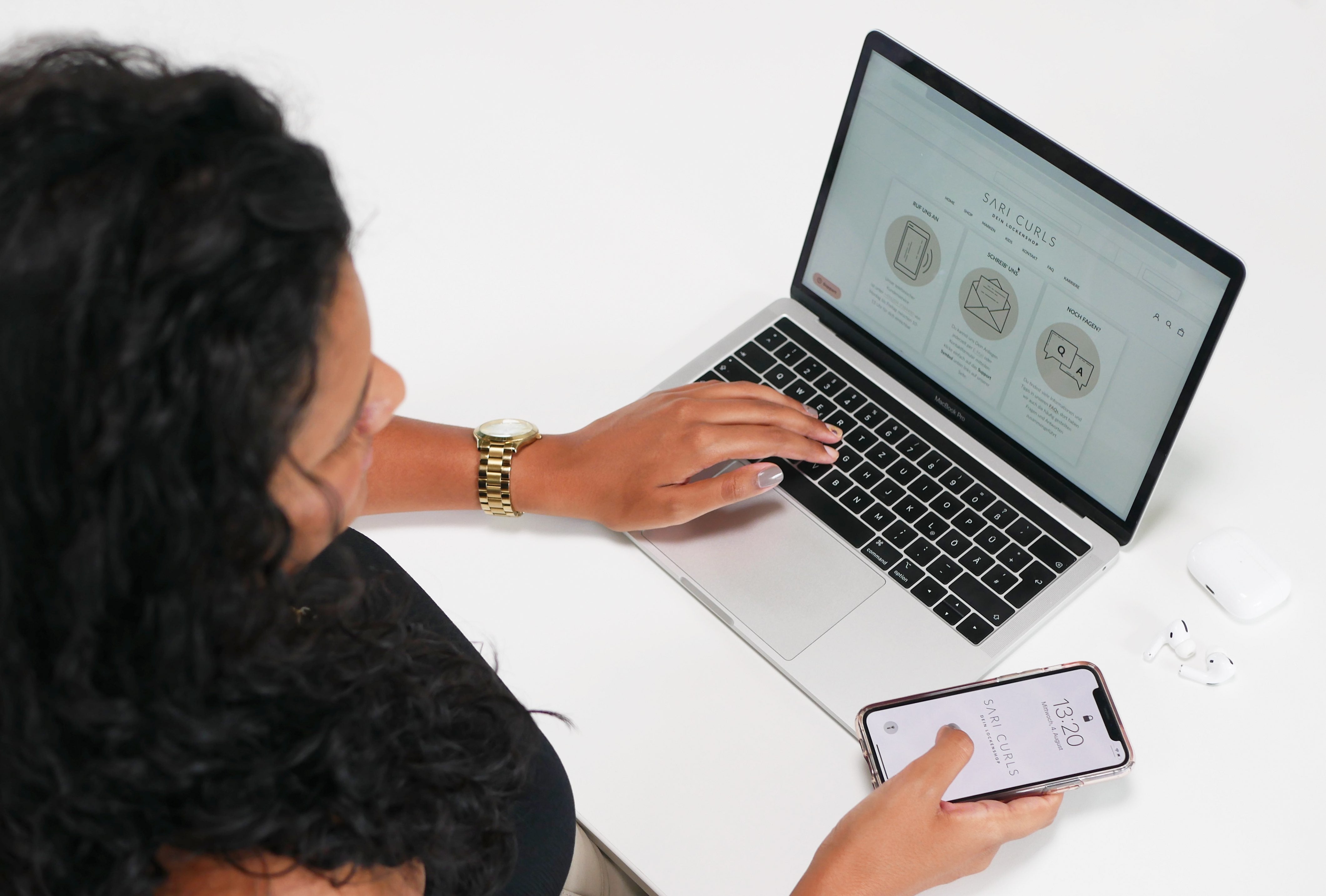 Your satisfaction is our priority. That is why our customer service team is here to help you with your curl journey. If you have any questions about your order, the shipping status or a product, we are there for you personally and always find a solution.
With Joanna - from the Customer Service Team - you are in good and safe hands.