HOT CURL SUMMER SALE☀️🌴
endet in {timer}
Description

How To Use

How To Clean
A gorgeous shower cap to beautify your wash day with increased benefits than your standard shower cap. Flora & Curl's uniquely designed, dual-purpose shower cap elevates your wash day experience instantly. It is hand-woven with love to boost hair conditioning.
The waterproof outside layer features our signature hand-drawn botanicals. The inside layer features a soft and thick insulated lining, that is deeply woven to deliver warmth and snug comfort. Your curls will thank you!
More effective conditioning treatments - Without any cords or hassle, our uniquely designed, Insulated Shower Cap increases the temperature inside the cap, encouraging the cuticles to open up quicker during deep conditioning, hot oil or other heat treatments. Your curls will be nourished and conditioned faster from the extra heat and warmth. You may enjoy the extra warmth and comfort as a bonus!
Convenient - It is portable, cordless and lightweight, allowing for flexibility and freedom while conditioning your hair, no matter what you are doing or where you are. Travel with it!
Re-usable - Say goodbye to easily damaged, single-use and disposable plastic shower caps and choose a re-usable shower cap. Easy to wash and easy to dry. Better for the environment.
As a shower cap:
Place it over the hair during your shower with the waterproof side facing outward
Hair is kept dry at all times, with an elasticated opening that expands and contracts for a snug fit that won't let a drop of water inside
As a heat cap:
Place it over the hair during a deep conditioning treatment, with the waterproof side facing inward
Flip it on the other side, and you have an insulated heat cap to instantly warm up your conditioning treatment
Tip - You can use it to support a heat treatment after applying either the the Organic Rose & Honey Cream Conditioner or the Curl Refresh Clay Wash or the African Citrus Superfruit Hair Oil.
Easy to wash and dry. Hand wash mainly, or machine wash on a 30C / 86F delicate cycle. Hang to dry quickly, preferrably with heat.
Size: 25cm / 10in diameter
Our Values
Get to know us better and see for yourself what makes SARI CURLS unique.
We at SARI CURLS have not only established the term curl store, but also brought brands and tools to Germany that are not easily accessible. We want to educate you about hair and curls, give you information and tips, teach you about ingredients. We are your faithful companion on your own curl journey.
We obtain all our products and tools directly from the manufacturers. Thus, we are always in regular and personal exchange. With us you can always shop safely and without worry. We always pay attention to the topicality of the ingredients or formulas and always have the latest products in stock. We support small businesses which attach importance to sustainability, as our environment is important to us.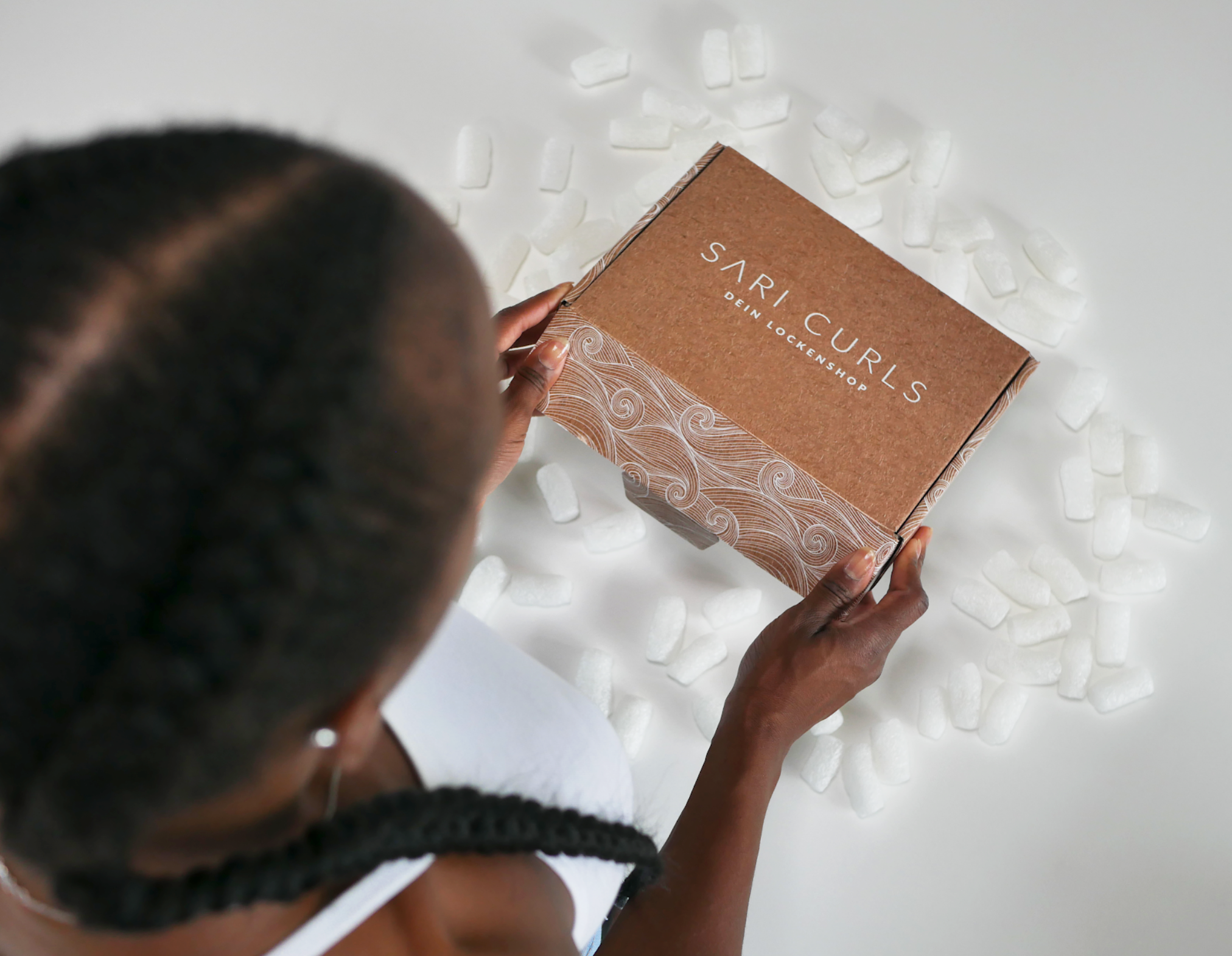 There is no planet B! Unsere Versandverpackungen sind ESC-Zertifiziert und 100% recyclebar. Unsere Füllmaterialien bestehen aus Papier oder weißen Flips aus Pflanzen- bzw. Maisstärke. Diese sind 100% biologisch abbaubar und lösen sich sogar in Wasser auf. Unsere Pakete werden klimaneutral zu Dir geliefert. Wir sind Teil des Umweltschutzprogramms DHL GoGreen. Jedes Paket wird mit ganz viel Liebe von Charlotte verpackt, Sie ist das Herzstück unseres Lagers.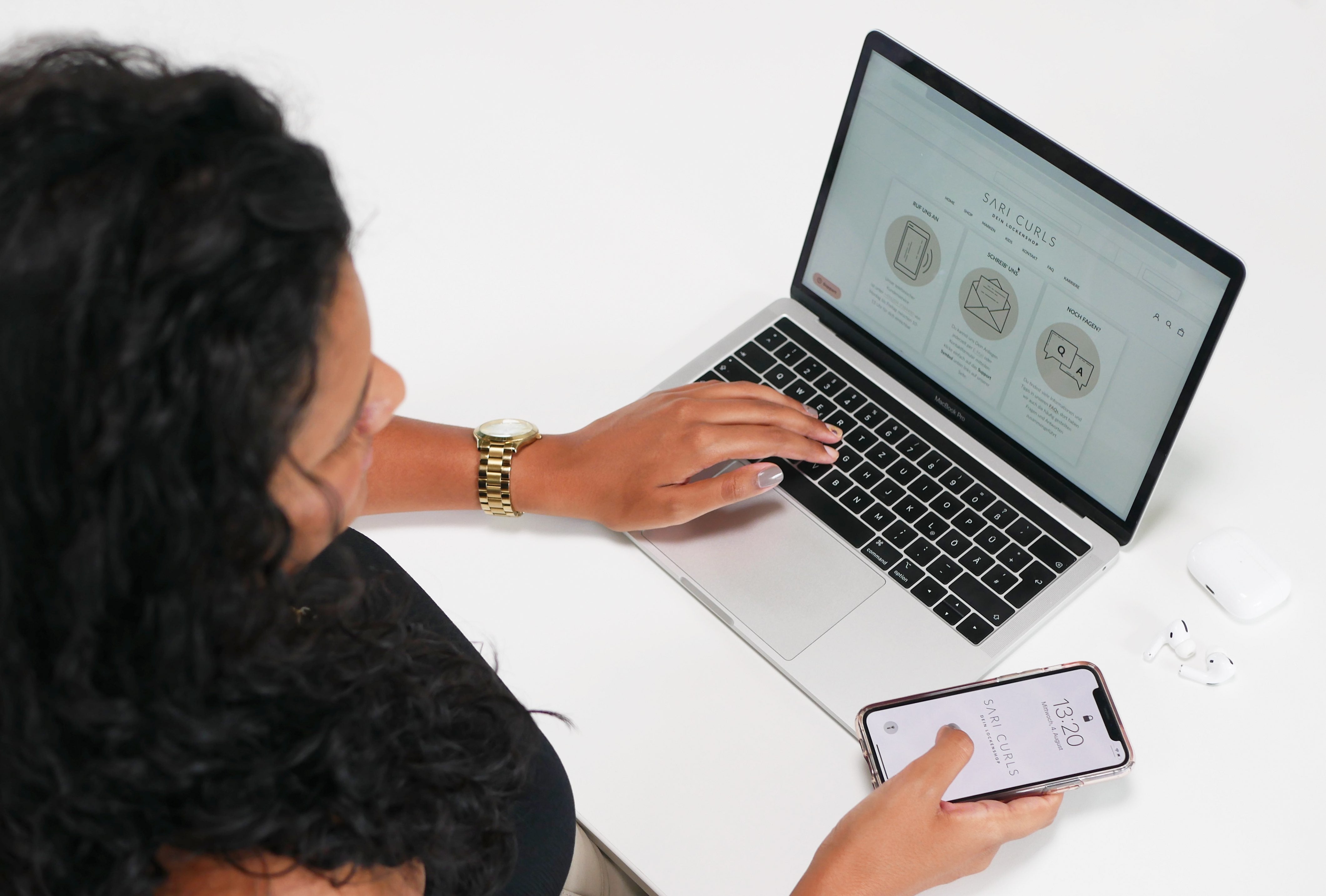 Your satisfaction is our priority. That is why our customer service team is here to help you with your curl journey. If you have any questions about your order, the shipping status or a product, we are there for you personally and always find a solution.
With Joanna - from the Customer Service Team - you are in good and safe hands.